Hair ends conditioning balm with coconut oil L'Oreal Expert Nutrifier DD Balm
The most sensitive part of hair are ends. If they are damaged, split and weak, the entire hair suffers from it. The important thing is protection and nourishment of ends, because it impacts the hair condition. You can take care of it with DD Balm od L'Oreal Expert Nutrifier – conditioning balm for ends with coconut oil.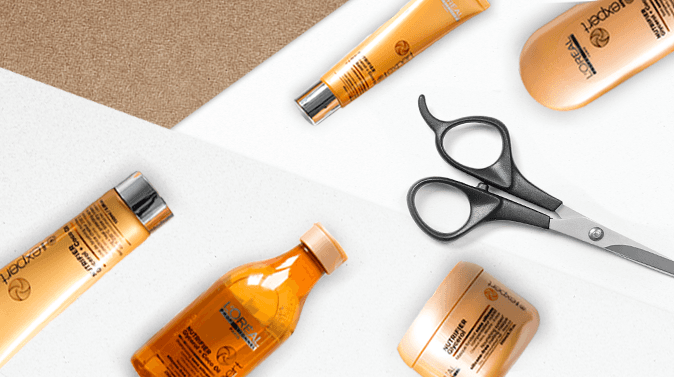 Conditioning DD Balm for ends
The DD is for "Dryness Defense". L'Oreal Expert Nutrifier Balm is a product dedicated for dry and damaged hair. Its main task is conditioning the strands, that lost health due to external factors and hairdresser's treatment. It contains plenty of valuable ingredients, including coconut oil known for being used in many conditioning cosmetics.
How does it work?
Nutrifier is a professional cosmetic line for damaged hair. DD Balm is an answer for needs of subjected to damages, ends, though, it impacts positively also the condition of the entire hair. Balm for ends contains coconut oil, so it:
regulates level of hydration,
nourishes hair and provides regeneration,
repairs damages to their structure,
prevents tangling,
makes hair bouncy and soft.
What's in the composition?
Softness and gloss are provided to hair by free from silicones, light-weight formula. Hair ends are protected and nourished with coconut oil and Glycerol. Combination of the two ingredients is effective and makes DD Balm very gentle and intense at the same time. How do the two ingredients in L'Oreal Expert Nutrifier Glycerol + Coco Oil DD Balm work?
COCONUT OIL is often called coconut butter, because in room temperature it solidifies. Natural coconut oil is obtained from the pulp of coconut in the cold pressing process. Most of this oil is lauric acid, which along with other saturated fatty acids makes 80 to 90% of the oil. Unsaturated fatty acids are in this oil in trace amounts, so coconut oil belongs to penetrating oils. On hair it fulfils just one, main task: seals hair cuticles, which weaken hair when are open.
GLYCEROL indicates strong moisturising action. It restores hair with right level of hydration, nourishes and strengthens. On hair surface is created protective layer. It also makes hair easier in stylisation.